Hai minions. And people. And those EIGHTY OTHER PEOPLE WHO MESSAGED ME OFFERING PIZZA.
Yes. It was there as a joke. You don't actually have to send me a pizza >.> Thanks for the offer though <3
So, what's new? Well. If you've been keeping up with the forums, you'll know that we've taken on a 1.8 branch and begun that update. Keep up with MrMs updates
here
We've been staying in contact with Sponge, so hopefully with our 1.8 releases we'll be seeing some servers too. (Remember if you're a capable developer, you can hop in on this.) We'll likely make 1.8 rather open, so we'll release offhand broken builds hoping you'll get involved with that bug reporting. The sooner we get 1.8 out of the way, the better.
The Pixelmon launcher - We've had some great feedback on out first launcher release, as well as some good bug reports, and some pixpacks already made up for you guys to try out! (I'll add one at the end on this post and a few more later). There's lots of improvements we want to do, and there's a possibility of auto-install with Pixelmon if we get a decent CDN working with us! (Else we're looking around $2100 a month at the very least). Quote from Blood - "Sponge 1.1 will be our next major release and include a bunch of features for server/plugin devs"
Pixel Utilities! - Do any of you use it? Well you all will soon. Pixel Utilities is a sidemod adding items and features onto base Pixelmon. Started by AndWhat5, he's given us the go ahead to merge this sidemod into Pixelmon for 1.8 - If you want to see what PU mostly is, you can find a page for it on our
wiki
. PU has actually been a staple of Pixelmon for quite a while now, and has actually brought developers to us through it. From decoration blocks to coins and Armour, you'll likely find it a nice addition to both your single player worlds and servers. Feel free to follow Andnub on
twitter
<3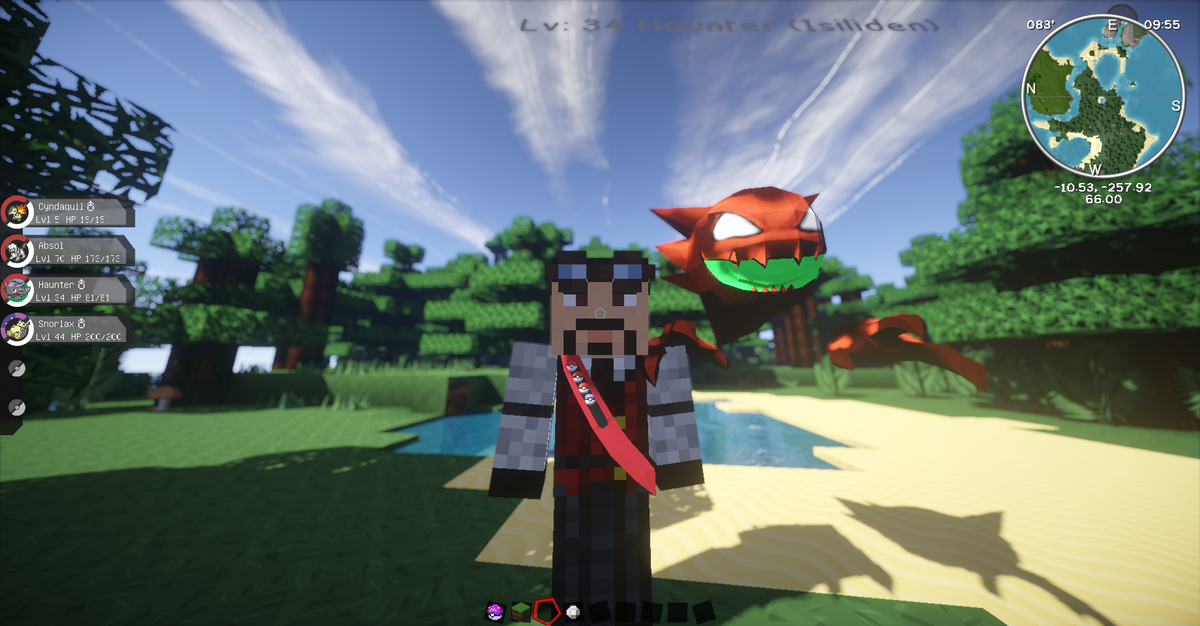 Donations! - It's been asked for so much before, we've always been wanting to do it, and it's finally here! *Dramatic music* The donation sash! You've seen the Pixelmon devs drag it out maybe, and just maybe you've wanted one for yourself. Well now you can get it. Just head over to the
Donations page
, make sure you have your Minecraft character linked, and make a minimum donation. Next time you're in a server/single player you'll see yourself with that sexy Pokeball toting sash! What's more is in later development we'll be looking at colour selection! And maybe we'll look at something better for those hardcore donators later on huh?
Halloween peoples! - We haven't forgotten about our Halloween Haunter winners. Don't forget to add your character to your profile! We'll be releasing information on how to obtain your special Haunter shortly.
Le streamers - Recently I noticed people streaming Pixelmon, and it's hilarious to watch people learn. So why not follow
AnaBooo
or
KingTut
to experience the same comedy? xD
Stop mod reposts! - As you know, we're closed source, All Rights Reserved, and very anti-redistribution. If it's ever crossed your mind as to why, #stopmodreposts is a great example. Check out their
website
, get behind this movement!
Sidemod updates - SoP has been updated, available on the downloads page. GTS will be seeing an update soon, and as soon as we hire an exorcist to rid GameShark of its current curse, we'll be releasing that out to you guys too!
PixPacks (Send me some good ones and I'll place them here) | Show

BulletPhase

Bullet Phase's modpack provides a unique gameplay experience with over 40 added mods. Create a whole new world filled with adventure and excitement. Catch all of the pokemon, fight the things that go bumping in the night and explore!

I will update the pack without walia and addons until the forge version gets sorted.

Moeboy76's Pixelmon pixpacks

MoeBoy76 currently has 3 packs:
- Pixelmon 3.4.0 standalone
- Pixelmon 3.3.8 standalone
- Pixelmon 3.4.0 + useful client-side side-mods
Follow me on Twitter for updates and boring stuff! -
Isi
SPG
Rhonim
Facebook -
Follow it!
Donate and get a sash! -
here!
READ MORE