- 27 Feb 2013 04:11
#8014
We are an adventure server with a multiplayer Pixelmon online experience! There is no building, just Pixelmon!

SCROLL DOWN FOR SCREENSHOTS!
IP Adress:

198.24.163.22:25565


Pixelmon

: 2.0.3


Forge:

6.6.0.497


Server Type:

BukkitForge


Gamemode:

Adventure


Player Limit:

50


Whitelist:

Off
Our TeamSpeak Server:
villoux.clants.net:8182
Official Forums:
http://www.snowflakeadventure.enjinn.com
Snowflake is back and better than ever!
We have been building for the last couple months and our proud to present two brand new areas!
An Island with an under the sea-lab gym and a Big City with a DARK secret POISONING it's sewers.

We have also found BukkitForge to be quite useful in restoring our server to it's original Adventure-Mode glory!
Visit our server and/or forums, and introduce yourself!

Opening in two weeks time...
A fully functional CASINO with exclusive rare items to be won!
A POKEMALL with an extensive selection sure to meet any trainer's needs!

Our Server Features:
- Catch, Battle and Trade Pokemon!
- NPC Shops! Sell drops you receive from wild pokemon and buy items!
- An unique, original WIP map
- Breathtaking gyms, towns, interesting routes and areas!
- Amazing community and staff!
- Become a Gym Leader!
- Participate in Tournaments!

Screenshots: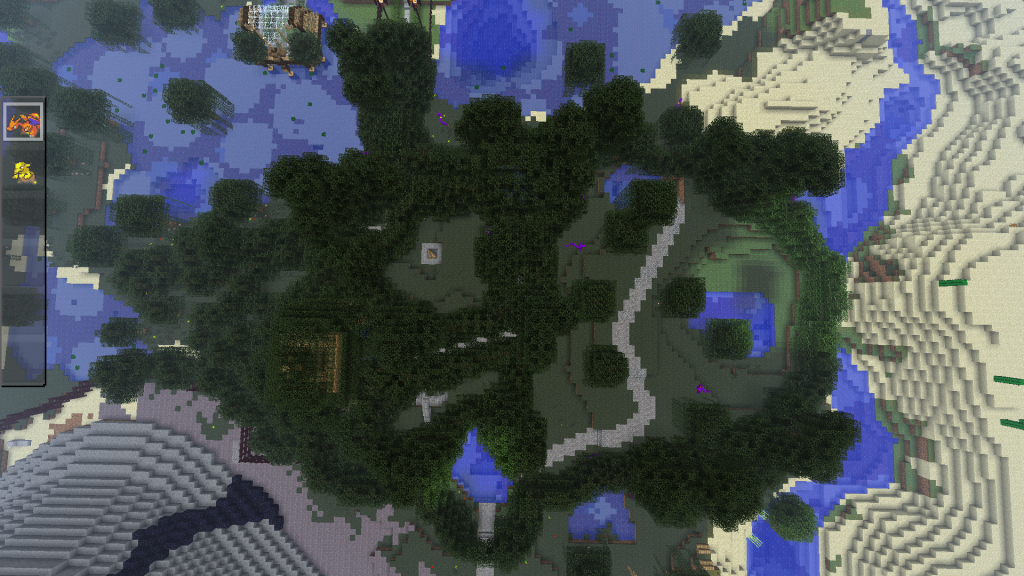 Gyms of Our Region:
First Gym (NORMAL)
First Badge

Volcano Gym (FIRE)
Volcano Badge

Treetop Gym (GRASS)
Treetop Badge

Sealab Gym (Water)
Sealab Badge

Sewer Gym (POISON_DARK)
Toxic Badge

PSYCHIC-GHOST (COMING SOON)
Spooky Badge

DRAGON-FLYING (COMING LATER)
Dragonfly Badge

MYSTERY GYM (COMING LASTLY)
Mystery Badge


About Our Gym System:
A gym leader is a player who tests the skills of players and hands out badges to victors.
A Leader of the first 4 gyms must use 4 of his gym's type, the rest can be any type that is not strong against the main type.
A leader of the last 4 gyms may only use pokemon that have one of his gyms types, and must have at least two of each.

Many people want to be the leader of a gym.
On our server, a gym can have up to 3 people who are part of it.
There are three ranks, GL is the leader, and 1 and 2 are the trainers.
If a gym trainer is online, they may stop you from reaching the gym leader by challenging and defeating you.
If the Gym Leader is inactive for a period, trainers may fill in for them.

A gym trainer can increase his rank in the gym by defeating the person above him, who they may challenge once per day.

Builds
Please apply to be a builder on our forums, not here or on server.
http://snowflakeadventure.enjin.com

Snowflake Village: Complete
Tunnel Bridge: Complete
Pixel Plains Town: Complete
Normal Gym: Complete
The Sticks: Complete
Volcano Town: Complete
Volcano Fire Gym: Complete
Treetop Route: Complete
Treetop Town/Gym: Complete
Treetop/Island Boat: Complete
Island Town: Complete
Sealab Gym: Complete
Island/City Boat: Complete
City: 85%
Sewers Gym: Complete

We need:

- Desert Labyrinth
- Pyramids in the desert
- Pyramid Gym
- Ascending Sky route leading to sky city from pyramid.
- Sky city/GYM
- And More!
PLEASE READ SERVER RULES - located in log cabin in spawn town.
Owner:

Stutterfoot
P.S. If you have concerns or questions about the server, or plan on checking it out, please comment below! We could use the exposure!